Date: 4th August 2018 (Saturday) Time: 8.30 PM Venue: Arena of Stars, Resorts World Genting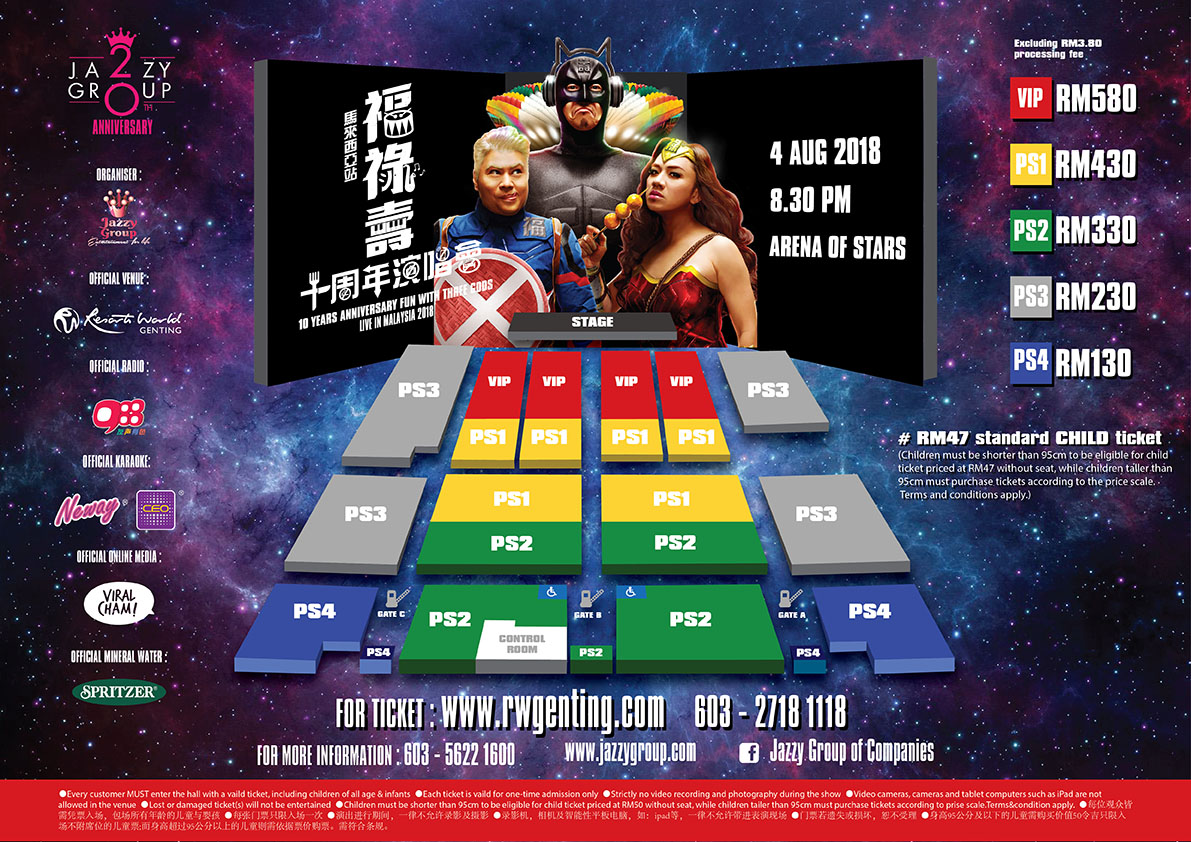 Date: 4th August 2018 (Saturday) Time: 8.30 PM Venue: Arena of Stars, Resorts World Genting   (KUALA LUMPUR – 20th June 2018) Wong Cho Lam, Johnson Lee and Louis Yuen who were known collectively as the "Fuk Luk Sau" are celebrating their 10 years anniversary with bringing spectacular "10 Years Anniversary Fun With Three Gods Live In Malaysia". They are coming to Arena of Stars, Resorts World Genting at 8.30 PM on 4th August 2018 with their imitation of renowned artists, parody songs and gags which would rock the stage!
The three gods of Louis Yuen, Wong Cho Lam and Johnson Lee as down and out friends Fook, Luk and Sau respectively. They made its debut on a Hong Kong variety show called 'Liza and the Three Gods' starring veteran Liza Wang. With their great singing and imitation skills, "Fuk Luk Sau" rode the fast-track to fame and get a meteoric success over the past year. Imitating other artistes and sharing "gags" are the main hits of the Three Gods. They wish to bring laughter and positive vibes to the audiences by watching their performances. The trio became the popular guest of various variety shows such as 'Fun with Liza and Gods', 'Liza and Gods Anniversary Charade', 'Acts of God' and more. They even act in a comedy drama series, 'Super Snoops'.
"10 Years Anniversary Fun With Three Gods Live" in Hong Kong has just delivered an immersive concert on 9th March. They believe the concert in Malaysia will also serves up spectacular extravaganza on 4th August 2018. The concert will bring more impersonation of renowned artistes, more songs with altered lyrics, more gags and strong visuals which will keep you throughout the night. These Hong Kong comedians are ready to rock the stage and together we anticipate their live performance in Malaysia!
Presented by Jazzy Group, ticket sales will available from 18th June onwards via www.rwgenting.com or call at 03 – 2718 1118. Concerts tickets are priced at RM 580, RM 430, RM 330, RM 230 and RM 130 (subject to processing fee). Children must be shorter than 95 cm to be eligible for child ticket priced at RM 47 without seat, while children taller than 95 cm must purchase tickets according to price scale.   How will the three gods bring laughter to captivate the heart of Malaysian audiences? You have to experience the concert yourself to find it out! For more information, please visit Jazzy Group social media or contact 03 – 5622 1600 and email to marketing@jazzygroup.com.