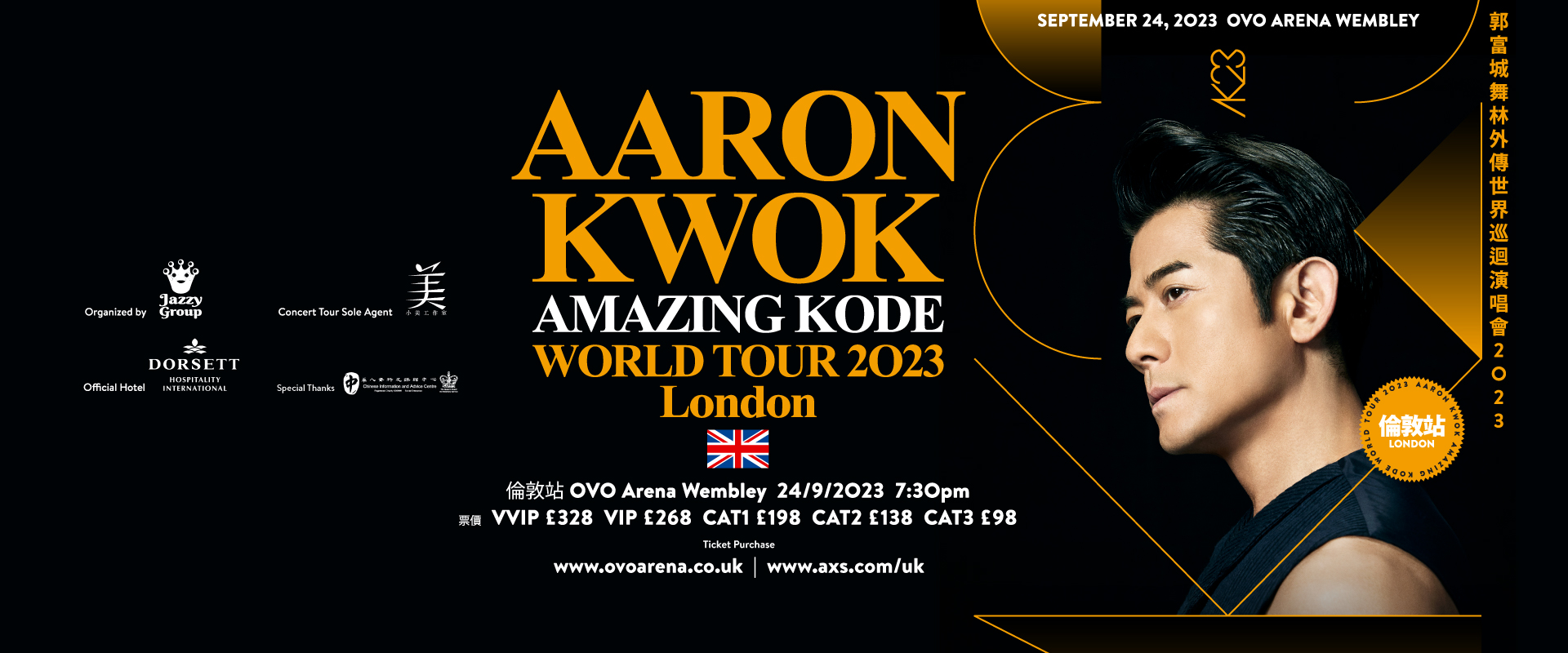 Aaron Kwok, one of Hong Kong's 'Four Heavenly Kings', returns to London after 9 years following his 2014 concert there. He will be returning on 24 September (Sunday) to OVO Arena Wembley with his 'Aaron Kwok Amazing Kode World Tour Live in London 2023'.
'Aaron Kwok Amazing Kode World Tour Live in London 2023' is organised by Jazzy Group. It is bound to be a gorgeous and spectacular concert. Known as the "King of Stage", Aaron Kwok has done a lot of great work in both singing and dancing, as well as in films and television dramas. Therefore, many fans have fond memories of him from their childhood and youth. It is believed that he will also bring a series of audio-visual delights to the audience in this 'Amazing Kode World Tour' concert.
In his last interview in London, Aaron Kwok also expressed his love for London's scenery and its local culture. This time, returning to London, Aaron Kwok said that he is very happy to meet with the British fans again. Before that, Aaron Kwok held his solo concerts all over the world this year, with Las Vegas as the first stop, followed by Chicago, Atlantic City, Toronto, Canada, Singapore, Malaysia, and many other countries. Each concert received enthusiastic support from fans, and the tickets were quickly sold out; the live atmosphere was full to the brim, making people excited!
For this concert, Aaron Kwok has been rehearsing in full swing and exploring new forms of performance so that he can bring a new presentation to his fans in concert. He promises to bring a series of signature classic dance songs such as 'I Love You Forever', 'Love's Calling', 'Generation Next', 'Crazy City' and 'Para Para Sakura', and have fans sing and dance along with him. Aaron Kwok has always set high expectations of himself and said, "The stage is always a place of creativity and dreams, my team and I will continue to present the most exciting dance routines and never stop!". Aaron Kwok will be working with three new young visual directors and designers, including Ricky Sham, Kit Wan and Anson Lau, to create costumes for him and the dancers, in hopes of wowing the fans.
Proudly presented by Jazzy Group, 'Aaron Kwok Amazing Kode World Tour Live in London 2023' will be held on Sunday, September 24 at 7.30PM at the OVO Arena Wembley in London! Concert tickets are priced at £328 (VVIP), £268 (VIP), £198 (CAT 1), £138 (CAT 2) and £98 (CAT 3). Official concert tickets are currently open for sale at OVO Arena Wembley and AXS. For more information on Aaron Kwok's London concert, please visit Jazzy Group's official Facebook or IG.